Phone Graham Thompson
01202 430733
WhatsApp m 07854 091094 email
CNC Cutting Machine
For Sale
Huge large format LIYU Platinum Q Flatbed Cut CNC cutting machines, available from £180pw, at a substantially lower price than our main competitors, are super fast and come in various sizes from 1500x1600mm to the enormous 5500x3200mm.
Speak to Graham for friendly impartial advice and ask for a price.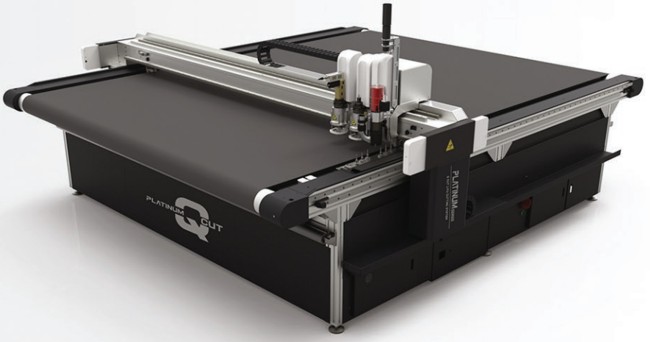 The LIYU Platinum Q Cut Flatbed CNC Cutting Machine
Flatbed cutting tables are now a truly affordable investment for all. Traditionally the market has been dominated by a couple of large manufacturers being sold at premium prices. We can supply a professional commercial cnc cutting machine to compete with these at a fraction of the price.

The manufacturers of the LIYU Q Cut cutting machine use only top-quality international components for instance Japanese THK steel rails and bearings.

This ensures exceptional build quality, accuracy, and reliability. Most importantly install, training, and on-going nationwide UK support, is from LIYU UK engineers.

We have a complete range of various different size tables to cater for everyone's applications (from 1.5x1.6m up to 5.5x3.2m)

Camera registration for accuracy, conveyor for productivity, auto tool changing, routing, and a range of tools to cover everything from packaging, signs, graphics, textiles, composites, and many more.

The Q cut cutting machine will be of particular interest to sign makers, screen printers and display makers for kiss cutting materials such as self adhesive vinyl and milling/routeing lettering, logos and various shapes from paper, card, pvc, correx, foamex, corrugated cardboard, textiles, plastic, acrylic, mdf, dibond, aluminium and wood etc up to 50mm thick.

LIYU Platinum Q Cut Flatbed CNC cutting machine - the facts:
*Table sizes: 1.5x1.6m 1.6x2.5m 2.1x3.5m 3.2x3.5m 3.2x5m
*Fast controlled speed of 1500mm/second
*Materials: paper, card, pvc, correx, foamex, corrugated cardboard, textiles, plastic, acrylic, mdf, dibond, aluminium and wood etc
*Maximum thickness of cut: 50mm
*Two year fast response LIYU UK warranty
The CNC cutting machine is the perfect partner for the LIYU Platinum range of digital large format printers.

Excellent finance packages for the LIYU Q range of printers and cutting machines are available starting from £180 a week (finance subject to status).
Don't forget to take advantage of government capital allowances on new equipment purchases - by saving up to 30% off the purchase price. Speak to Graham
Please ask for a detailed specification tailored to your requirements and costings - graham@matoria.co.uk or call Graham on 01202 430733 for friendly impartial advice.

Installation, Maintenance & Field Service
Printers supplied by LIYU UK nationwide team of experienced engineers and application specialists, who carry spare parts for the printers.